Datsun Roadster Parts from Rallye Enterprises, Ltd.

.. .. .. .. .. ..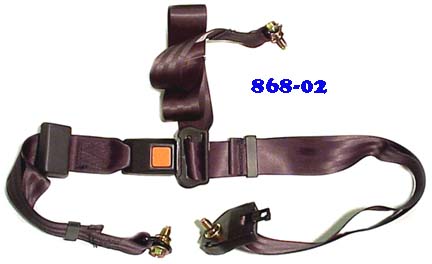 ...

No Longer Available as of April 2015. This page left up for informational purposes.

OEM type SEATBELT

Seatbelts were manufactured to Nissan Specifications in Japan. They use current type buckle assemblies as current safety standards have to be met. You can use the later type belts in the earlier cars if you make a hole in the back deck or wheel arch for the shoulder harness to attach to. You would have to reinforce it with a big backing plate on the other side to reduce the chance of it pulling through under load. The plate should have the sharp edges ground, which reduce it's ability to tear the sheet metal and have the whole plate come through.Maybe even curl the edges of the plate away from the sheet metal a bit. I saw nice job on a car I was working on, they welded an ice bracket to the crossmember that the shocks hook to, it went over to the sheet metal and a bolt went through the sheet metal and into the bracket. I met an oncoming drunk driver in my lane in my roadster once and know firsthand the stress these belt mounts will have to endure.

Price listed is for each seat; but you need to order for 2 seats.

...
---
| | | | |
| --- | --- | --- | --- |
| | | | |
| | | | |