Parts for Datsun Roadsters from Rallye Enterprises, Ltd.
| | | |
| --- | --- | --- |
| .............. | | .............. |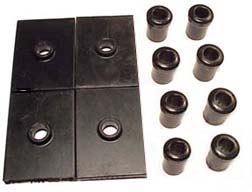 LEAF SPRING REAR BUSHING AND MOUNT PAD KIT #999-N9
Designed for improved handling, this harder material takes the give out of the suspension which can reduce spring reaction time.We aren't happy with the quality of the tooling or the material used on these but until a better reproduction is available they will have to do. If you have NOTHING, these are OK. Keep in mind though, that "improved handling" also translates into an increase in ride harshness. Just because "race cars" use certain designs or materials doesn't mean you want the same items on the car you drive down the highway. The short wheelbase, narrow, limited suspension travel, leaf spring suspended roadster certainly doesn't need any help in the rear axle stiffness department. The original items on your car, like this part, or shock absorber bushings etc etc etc, were made from pliable material for a good reason. Just because manufacturers can make things out of rock hard material doesn't make the part better. Rock hard materials are great for conveyor belt wheels, your back may not think so after a road trip.
---
| | | | |
| --- | --- | --- | --- |
| | | | |
| | | | |