Datsun 1600 Transmission Parts from Rallye Enterprises, Ltd.
| | | |
| --- | --- | --- |
| . | | . |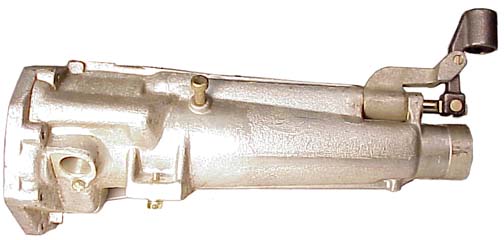 .

1965-1967.5 TAILHOUSING #321-89

& EXTERNAL SHIFT MECHANISM

Want to pretend it is 45 years ago and you just bought your car? You can get most of the way there with a new tailshaft housing and shifter mechanism replacement. Includes new housing, with the following new parts installed: Main shift rod, main shift rod bushing, driveshaft bushing, breather and all external shifting components. This is the improved housing assembly Nissan introduced in early 1967. Aluminum bracket that pivots on housing was matched to housing and installed by Nissan. Use your old reverse light switch; which has to be the correct switch for a 65-67.5 i.e. thread diameter is about .493; not .545 that the 68-70 cars used.

To use this housing on a 1968-69 you would have to locate a 65-67.5 reverse light switch; as yours won't work. You would also have to drill out the housing to use your larger transmission mount bolts.

To use this on a 1970 1600; the 68-69 notes apply as well as this housing does not have a mounting area for the emission switch that came on USA and some Canadian cars.

TAILSHAFT HOUSING is also available with less parts, scroll down in parts listing on the trans page to "HOUSING, TAILSHAFT".

.