Datsun Fairlady Parts from Rallye Enterprises, Ltd.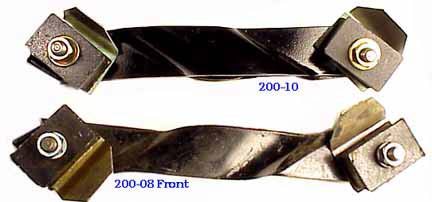 ....

EXHAUST PRETZEL HANGAR ASSY 1500, 63-67 1/2 1600

Part 200-08 is front, about 18"or so behind manifold/header, just in front of frame "X". Part 200-10 is center hangar, just to the rear of frame "X" member. Sometimes we get these with the little heatshields as shown, sometimes we don't. They should help protect the mounts from the pipe heat. You can make some by bending and drilling a little piece of aluminum. These parts are similar to the later style 206-03 and 206-04 except that the 200-10 is for the smaller diameter rear pipe of the earlier cars, and the 200-08 is designed to wrap around the flattened section of the original front pipe on the 63-67 1/2 cars, so it's opening is about 1 3/8 inches

These are designed for the original pipe and may not fit properly with anything else. The original 63-67 1/2 1600 front pipe is about 1 3/4 inches(The original 67 2000 and 68-70 1600/2000 front pipe is about 1 7/8 inches) The front pretzel goes over the front pipe where it is flattened to fit through the frame. The front pretzel is designed for a pipe that is flattened to 1.425 (36mm).

....
---
| | | | |
| --- | --- | --- | --- |
| | | | |
| | | | |