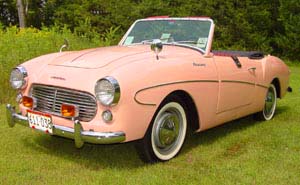 photo courtesy of Cave Creek Classics
....

AMERICA'S 1ST FAIRLADY

1960 Datsun Fairlady SPL212 Sportscar

I have been aware of this car since the 70s. The original owner, Bruce Mori-Kubo was very nice to me when I was starting out in this business some forty years ago. This is the car I wrote the article about in our 1988 catalog insert.

This is the first Fairlady sold in the US. It was ordered from the factory with a deposit on May 26th, 1960. It is the original paint color from the factory which is not one of the six offered colors. This car was specially painted for Mr. and Mrs. Mori-kubo by the factory in a brilliant "Cherry Blossom Pink" as it would be the first car sold to a customer in the US. He could have chosen any color mixable. Bruce received a $50.00 service rebate from Nissan USA as there were no dealers in the Midwest at the time.

"The car is affectionally called "Sakula" meaning Cherry Blossom.

Last I heard it was going home to Japan, after receiving some TLC from Cave Creek Classics in Arizona, a company who seems to delight in taking on the restoration of the rarest and most unusual vehicles on the planet. Bruce had passed away a few years ago.

Rest in Peace Mori-Kubo san

Pic from original brochure.

.....
---
| | | | | |
| --- | --- | --- | --- | --- |
| | | | | |
| | | | | |